Parkway West Senior High School
Class Of 1982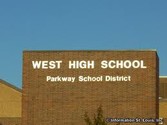 In Memory
Steven Tomey
Tomey, Steven L., 53 of St. Louis, passed away, Saturday, December 9, 2017.

Beloved husband of Sandy Tomey. Loving father of Sam Tomey. Step-father of Becca Moss and Alex Moss. Loving son of Beverly Sharamitaro and the late Allan Tomey. Dear brother of Susan (Rob) Kunz, Doug (Susan) Tomey, and the late David Tomey. Beloved uncle, cousin, brother-in-law, and friend to many.

Steve was an avid outdoorsman, environmentalist and educator. A graduate of Parkway West High School, Steve earned a Biology degree from UM-Columbia. He spent 5 years at the St. Louis Zoo, fulfilling a childhood dream of working with endangered species. Steve traded his shovel for a chalkboard and began a career as a science teacher in 1993, earning his Masters in Secondary Education at UMSL. Steve taught in Maplewood and then at Lindbergh High School for 20 years, where he was a "Lindbergh Leader" and inspired hundreds of students to pursue their passions in science and environmental issues. Steve's mission in education was to get kids outside to explore the world. He guided more than 100 student trips to the Ozarks, the Great Smoky Mountains National Park and the rainforests in Costa Rica.

Services: Visitation at the SCHRADER Funeral Home and Crematory, 14960 Manchester Road at Holloway, Ballwin, Thursday, December 14, 2017, 4-8 p.m. Funeral and Interment will be private. In lieu of flowers, contributions may be made to Friends of the Rainforest. Friends may sign the family's on-line guestbook at Schrader.com.
http://www.schrader.com/sitemaker/memsol.cgi?user_id=2046246