Parkway West Senior High School
Class Of 1982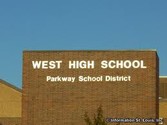 In Memory
Peter Stucki
Peter was known by his classmates and teachers alike as a goofy and likeable soul. He was an accomplished student with an infectious laugh. He was the kid riding a unicycle through the halls of PWSHS during Spirit Week. His departure from this world came too soon. He will be missed.

Peter Lund Stucki passed away suddenly on July 26, 2016 in Cheyenne, Wyoming.
Peter was born February 12, 1964 in Las Vegas, Nevada to John and Shirley Stucki and was the 2nd of 3 sons. Peter grew up in St. Louis, Missouri and graduated from Parkway West High School. Peter was active in Scouting and earned the rank of Eagle.
Peter served an honorable full-time mission for the Church of Jesus Christ of Latter-day Saints in the Albuquerque, New Mexico - Spanish speaking mission.
Peter earned degrees from the University of Utah, St. Louis University, and Midwestern University in Illinois.Peter practiced as Physician Assistant for over 20 years and specialized in trauma with the last 9 years in Jackson Hole, Wyoming.
Peter is survived by his father, John Stucki and two brothers, David Stucki and Bryson Stucki.
A viewing was held on Friday, July 29, 2016 from 7:00 to 8:00 pm at the Schwab-Matthews Mortuary in Montpelier, Idaho. A graveside service and burial was conducted Saturday, July 30, 2016 at 11:00 AM at the Paris Cemetary, in Paris, Idaho.
http://nex.stparchive.com/Archive/NEX/NEX08102016P13.php?tags=peter|stucki