Parkway West Senior High School
Class Of 1982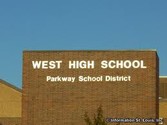 In Memory
Scott Morris
Morris, Scott Lee, passed away, Monday, June 24, 2019. Beloved husband of Marsha Morris; dearest father of Chelsea (Paul), Tiffany, and Zachary; devout grandfather to Trey and Charlee; loving son to Shirley. Scott was predeceased by his father, Richard.
Scott was easygoing with a crooked grin, which he showed often. He would tell lighthearted stories to anyone willing to listen, and they would see his gentle nature as he spoke. At a young age, Scott learned from his father how to work on appliances. He would one day take over the family business, Dick Morris Service Company. His trade was of practical use, as he would fix anything his wife and children threw his way. Marsha was the love of Scott's life, and they were happily married until the end, almost making it to thirty years. Their three children adored their father. They knew he always had their best interest at heart and could turn to him for anything. Trey, Scott's grandson, called him Poppy. He looked up to him in every way. Scott was Trey's favorite person in the whole world. Charlee came along in 2018, one day after Scott's birthday. Her smile made him smile every time. She was his baby girl. So many people loved Scott. He will never be forgotten. May his memory live on.

Services: Celebration of Life Gathering at the Versailles Ball Room at the Sheraton Westport Chalet Hotel St. Louis, 191 Westport Plaza, St. Louis, MO 63146, on Monday, July 1st, 2019 from 1:00 p.m. until time of Memorial Service at 3:00 p.m. In lieu of flowers, contributions may be made to Kidney Cancer Association. A service of the SCHRADER Funeral Home and Crematory. Friends may sign the family's on-line guestbook at Schrader.com.