Parkway West Senior High School
Class Of 1982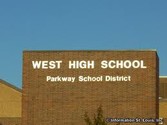 In Memory
John Moellenhoff
Moellenhoff, John Edward, baptized into the hope of Christ's resurrection, Tuesday, July 11, 2023.

Loving husband for 14 years of Cara Moellenhoff (nee Walters); beloved father of Samantha Moellenhoff, John Edward "Jack" Moellenhoff, Juli Moellenhoff and Stella Moellenhoff; brother of Victoria (Lynn) Glatt; uncle of Hadden (Holly) Glatt and Olivia (Trevor) Schlueter; great uncle of Blake, Jackson and Brady; son-in-law of Ed and Christine Walters; brother-in-law of Brad Walters; nephew of Donald (Constance) Moellenhoff; John was preceded in death by his parents John Moellenhoff and Carol Moellenhoff; loving cousin and friend to many.

John graduated from Parkway West High School and was an alumni of Southeast Missouri State University. He was a member of Phi Sigma Kappa fraternity where he made lifelong friends. John enjoyed fishing and hunting particularly if it involved his daughters, niece and nephews. His colorful accounts of his outdoor escapades were legendary.

John was a voracious reader often finishing several books a week. John was a lifelong fan of The Rolling Stones, perhaps their biggest fan. John loved his wife and his children. His passing leaves his family and friends heartbroken. We are forever grateful for having him in our lives and will treasure him forever.

Services: Funeral Mass at Holy Infant Catholic Church, Ballwin, Monday, 10:00 a.m. Interment at Bellerive Gardens. In lieu of flowers, contributions may be made to US Bank for the benefit of Juli Moellenhoff and Stella Moellenhoff who both have savings accounts established there. Please make payable to Juli Moellenhoff and Stella Moellenhoff and mail to US Bank, 1050 S. Woods Mill Road, Chesterfield MO 63017. Visitation at the SCHRADER Funeral Home and Crematory, 14960 Manchester Rd., Ballwin, Sunday from 4 until 8 p.m. Friends may sign the family's on-line guestbook at Schrader.com.