Parkway West Senior High School
Class Of 1982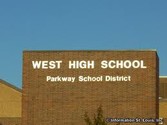 Hotel Information

If you are coming in from out of town or simply want to hang out with other alumns for the weekend we've got you covered!
We have arranged for special pricing at the Millenium Hotel on the St. Louis Riverfront from Thursday, October 4th (check in after 4pm) through Sunday October 7th (check out at 11 am). Stay the entire weekend or book your room for Saturday night and take the free shuttle (only available if we have at least 30 reservations) from the Old Rock House to the Millenium on Saturday evening.
NOTE: If the Cardinals go to the playoffs again this year it could be a crazy weekend downtown so reserve your rooms by the cut-off date of September 10, 2012. After that date rooms are on a first come first serve basis.
Here is the link to online registration: Parkway West 30th Reunion at Old Rock House
If you would like more information on the hotel you can go to their main website at: www.millenniumhotels.com/millenniumstlouis. If anyone would like to make reservations by phone please contact the Reservations Department at 1-800-325-7353 and use the name "Parkway West 30th Reunion" when registering.
Millennium Hotel St. Louis
200 South 4th Street
St. Louis, 63102-1804
United States
T. +1 314 241 9500
F. +1 314 516 8149
E. Email Us
We've reserved a block of rooms in the North Tower (Superior) which is the renovated section of the hotel and are the best rooms available.
The room block includes:
| | | | | |
| --- | --- | --- | --- | --- |
| Day | Thursday | Friday | Saturday | Sunday |
| Date | 10/4/12 | 10/5/12 | 10/6/12 | 10/7/12 |
| Block | 15 Rooms | 30 Rooms | 30 Rooms | Check out by 11 am |
| | | | |
| --- | --- | --- | --- |
| Room Type | Single/Double (1-2 people) | Triple (3 people) | Double (4 people) |
| North Tower Superior | $105.00 | $115.00 | $125.00 |
Parking is available at rate of $18 per day but we have arranged for $10 per day in the black level only.
The room block will be held until September 10, 2012 at which time all unreserved guest rooms withing the room block will be released for general sale.
There are other hotels in West County if you would prefer to stay out west but considering the "main event" is downtown and it offers more things to do for our out of town classmates, we have only blocked rooms at the Millenium.
For our local classmates... we do not want to promote drinking and driving so take advantage of the discount and shuttle bus and have a fun night vacationing in your own back yard!